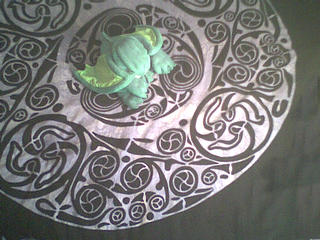 Jim: Look at this contender, Jerry. Absolutely composed before his big fight.
Jerry: Well yes, the man's a pro and he's been doing this for eons.
Jim: That's certainly true. Cthulhu clearly is one of the great old ones.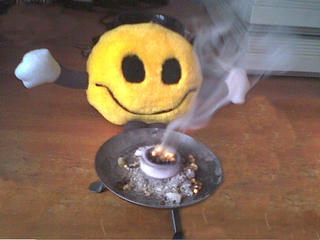 Jerry: Oh, and here's the opposition. And what's he doing?
Jim: Is that a chicken on the barbeque?
Jerry: No chicken sacrifice is going to save him here. Only one thing counts in that ring, and that's skill.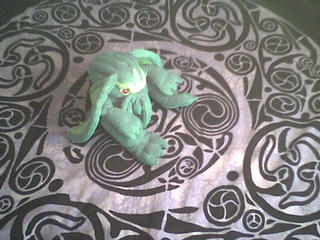 Jim: Hey now Jerry. I can't believe you're saying the smiley face doesn't have any skill. Did you see his last fight?
Jerry: Yes I did. I'm just saying that he seems scared.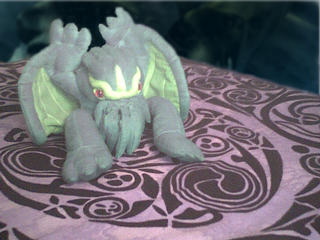 Jim: Oh! And Cthulhu's getting up. And he looks psyched.
(Cthulhu's theme music plays)
Jerry: Oh yeah! And here he comes into the ring, thats what six billion years of hate is going to give you! One hundred percent pure attitude!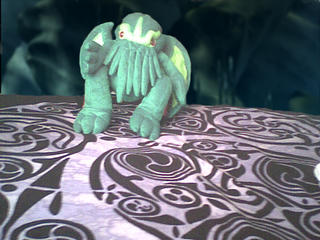 Cthulhu: SMILEY FACE! I'M CALLING YOU OUT! YOU TOOK DOWN MY MAN DAGON AND YOUR BALLOONS TOOK OUT NYARLATHOTEP WITH A METAL CHAIR. BUT I'M HERE TO TELL THE WORLD YOU AIN'T NOTHING!!!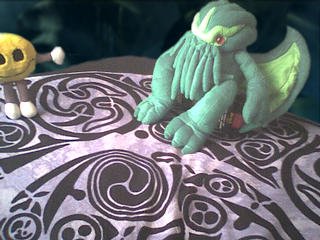 (Smiley's theme music plays)
Smiley face: You're washed up, old man! I'm here to hang you out to dry!
Jerry: Enough talk! We want some action here!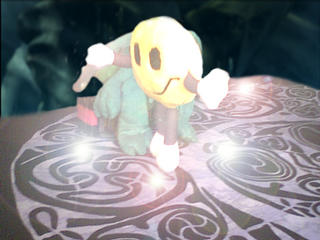 Jim: Hey it looks like they heard you Jerry.
Jerry: Oh, and Smiley's straight in there with his flying polyp.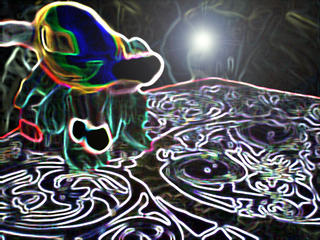 Jim: What the hell is this? Is this the balloons again?
Jerry: Yes! It seems Smiley is afraid to get in the ring without his balloons any more.
Jim: Are you calling Smiley a coward? Do you want to get up in the ring and tell him that?
Jerry: No I don't, Jim. I think Cthulhu is going to say it for me.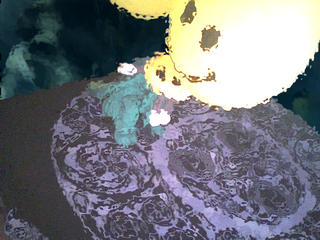 (Balloon theme music plays. Fireworks set off around the ring.)
Jim: Much as I respect Smiley, I gotta admit, it would be nice to see him do his own fighting for once.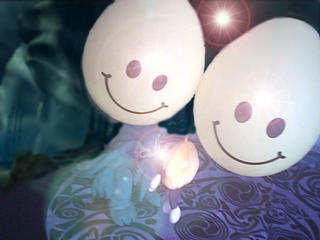 Jerry: Oh no! Cthulhu hasn't seen them! He's too focused on the fight at hand.
Jim: He clearly needs to work on the peripheral vision. He wouldn't pass a driving test like that.
Jerry: He doesn't have to. He can afford a chauffeur.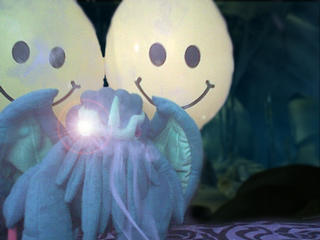 Jim: Never mind a chauffeur, looks like Cthulhu might be going home in an ambulance.
Jerry: Oh God! Cthulhu, look behind you! This is ugly.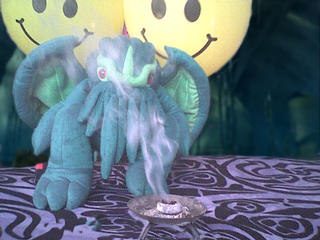 Jim: What! They've got an incense burner!
Jerry: They're trying to push Cthulhu into the burner! I can't believe this is happening.
Jim: Believe it, Jerry. This could be the start of a new chapter.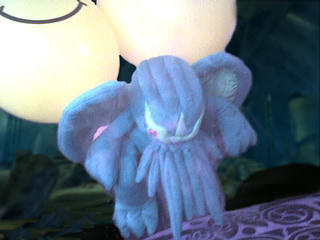 Jerry: I don't believe it!
Jim: What? That's impossible! He threw them BOTH off!
Jerry: Looks like we counted the Big Green out too soon.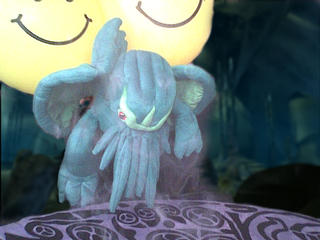 Jim: He looks really mad now. I wouldn't want to be one of those balloons.
Jerry: Looks like they don't want to be one of those balloons either.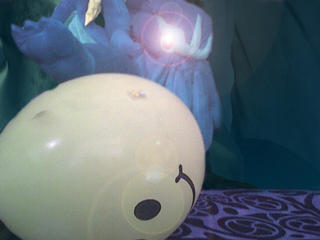 Jim: Oh dear God! He just ripped that balloon to shreds! The other balloon is down! There's blood on the mat!
Jerry: What can I say, Jim. Cheats never prosper.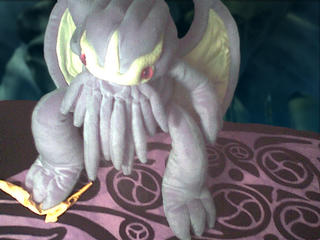 Jim: Cheats never...? Jerry, he just killed two fighters!
Jerry: Well Jim, that's the risk you take stepping into the ring. They knew that.
Jim: That cannot be right. He's an animal!
Jerry: No Jim, he's a professional.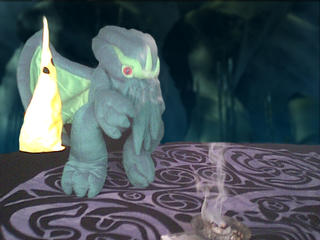 Jim: Now that is just cold! He threw the body at his opponent!
Jerry: All's fair in love and wrestling.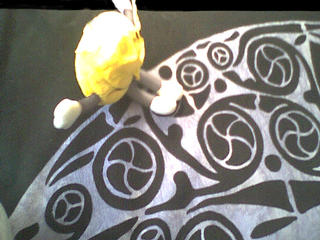 Jim: Oh! Smiley did not like that. And I can't say I blame him.
Jerry: He brought it on himself Jim, and you know it.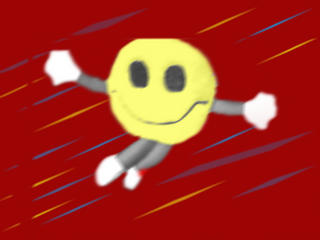 Jim: Smiley with the rush! Bouncing back nicely.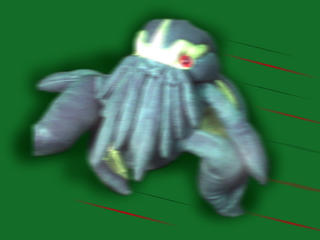 Jerry: Oh, but here's Cthulhu with the clothesline!
*CRASH!*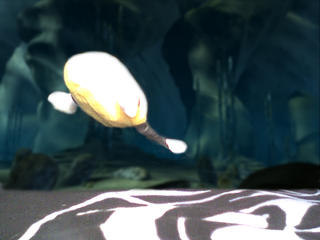 Jim: Ooooh, that HAD to hurt!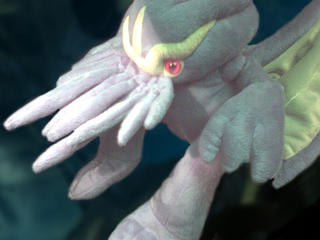 Jerry: Cthulhu is not letting it lie!
Jim: It's the R'LYEH BOMB! The most powerful move in professional wrestling!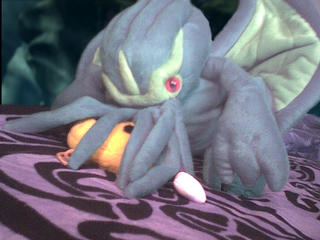 Jerry: We haven't seen this move since Cthulhu's bout with the Mad Arab, Jim!
Jim: And there is is! The perfect tentacle pin!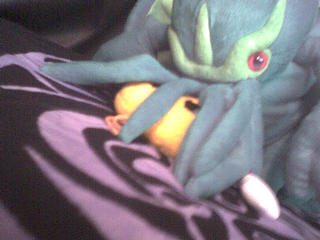 Jerry: No-one kicks out from the R'lyeh bomb!
Jim: Looks like this is all over.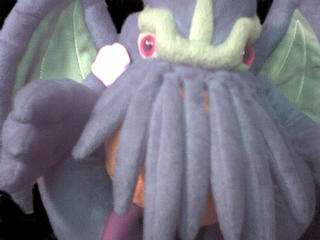 Jerry: What's this! What's this! He's not holding him down???
Jim: Oh dear God Jerry! I think the Big Green just went big M A D!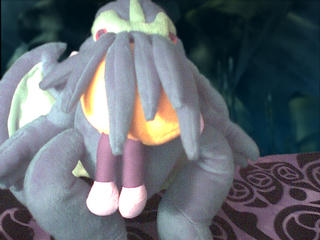 Jerry: OH MY GOD! It's the tentacle snarf!
Jim: The tentacle snarf? But that's just a legend?
Jerry: No legend, Jim. Cthulhu used to use this move back in his extreme fighting days. But we haven't seen it since he went legit!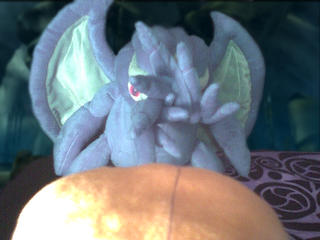 Jim: DID YOU SEE THAT!? I never seen anything move that fast!
Jerry: Yes, Jim. The tentacle snarf isn't a pretty sight.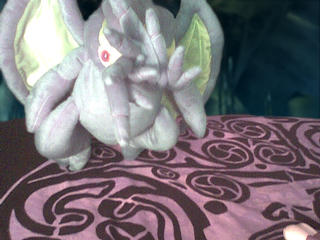 Jim: Where'd he go! Where's Smiley? Is he moving? Get a camera on!
Jerry: I tell you, Jim. This fight's over.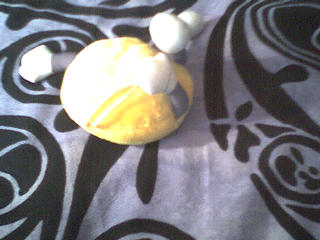 Jim: This fight? Look at Smiley. I'd say his career is over, if not his life!
Jerry: And possibly his soul. But that's the risk you take when you get into the ring with Cthulhu.




Cthulhu: LET THIS BE A LESSON TO ALL WHO WOULD OPPOSE GREAT CTHULHU!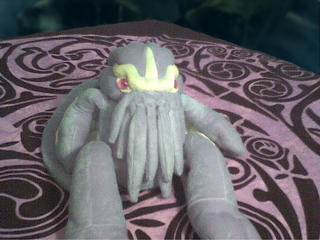 Referee: The winnah! And still undefeated champion. Grrrrreeeeaaaattt KUH-THOOOOOOOOOO-LOOOOOOOOOOO!!!!!